The Best Time To Visit San Diego- Traveler's Guide Update
So, what's the next destination on your bucket list? Is it the prime travelers' destination – California? If this is so then visiting San Diego is a must! We know being a Globetrotter you might have already put this amazing place on your hit list.
But do you know what the best time to visit San Diego, California is? Well, the answer is ALWAYS! Located at the coastline of the Pacific Ocean, this astounding place is the hometown of famous people from California. Besides, this place is known for being the second largest city in California.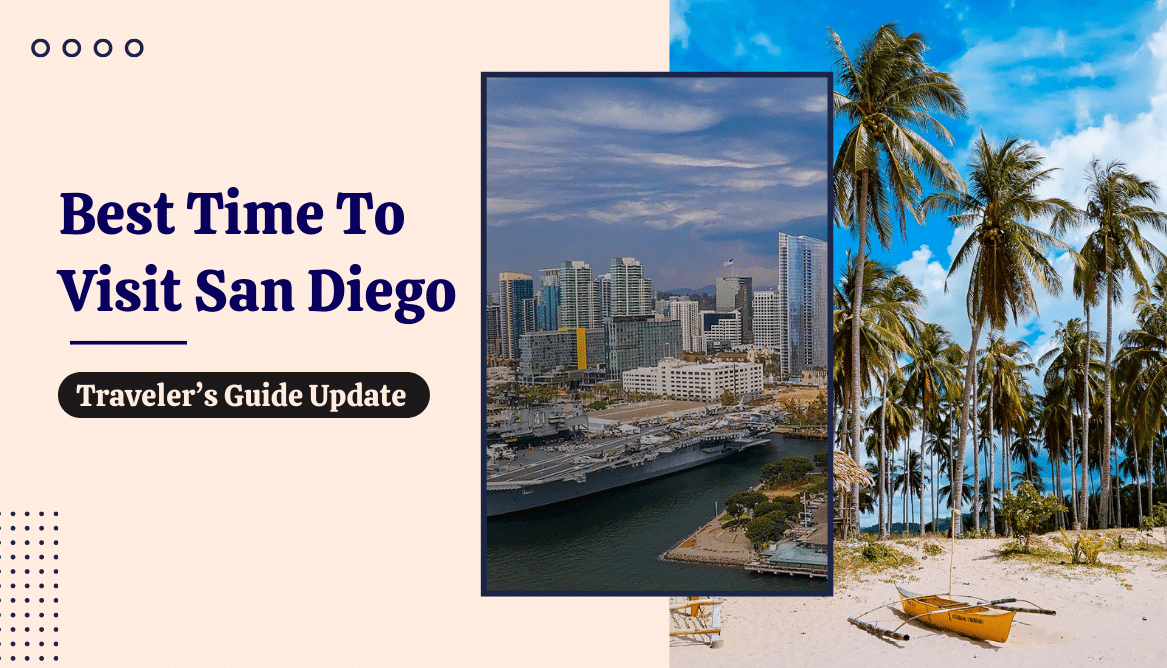 If you plan to get a romantic gateway or visit some mesmerizing idealistic beaches with your lady squad. Or may wanna wander the California adventure better than Disneyland with your munchkins then San Diego will be your ideal place.
Best Season to Visit San Diego?
Even though San Diego has the mix of best weather of all time we are putting the list of spring and autumn months on top. The most preferable tourist guide calendar month for San Diego are March, April, May, September, October, and November. But it doesn't mean it's terrible to visit San Diego, California in other seasons. 

If you are a big fan of winter then this place wouldn't disappoint you anyway. No one like to miss the romantic weather when the cool drops of icy rain hit their window and pass drizzle drops inside the room making their trip more romantic. And the best part is, visiting this season comes perfect if you are planning your trip under a tight budget as you will find good hotels at lower rates. 

Nevertheless, the summer. Although the summer hit almost 70 degrees here, this season still attracts the highest percentage of visitors throughout the year. When you visit this season you can enjoy the perfect patio weather, idealistic San Diego beaches, oceanic views, sunny weather, and seasonal festival that can make any traveler merrily occupied throughout the trip. 

Below we have listed down the best seasons (month vise) you can consider visiting according to your preference:
Month  

San Diego's Climate

Best Things You Can Enjoy

January

This is the coldest season can expect drizzle and rain.      

You can enjoy different cuisines at an amazing value, a prime time when you can watch whales migrate and give birth to newborns. 

February 

Temperature runs a little low, can encounter good rain, an umbrella is a must.   light winter sweaters will work perfectly fine. 

You can visit the museum, enjoy virtual activities, enjoy concerts, delectable stale food, games at the TET festival, etc. Seniors above 65, can visit San Diego Zoo Safari Park free of cost. 

March 

Bit a high-temperature month, but lower than the fall season. A bit of wintery weather. 

Increased hotel rates due to spring break, this is the peak month to be preferred by tourists. You can find tourists enjoying beaches and the ocean. This is the beginning month of the baseball game so if you are a baseball lover then you can make evident the first baseball game of the month. And can also enjoy San Diego Indie Fest. 

April 

Beginning of spring weather in the city, San Diego's climate temperature can go a little higher but bit of cold will stay there. 

This month is mid of the spring season. If you are a nature admirer and love to rove around trees or greenery. Then this month is the most prominent, as you can visit various destinations to see beautiful flowers throughout the month. The flower show named "Coronado Flower Show" is one of the largest flower show in the US held during this month. You can enjoy multiple events such as busker fest, and San Deigo EarthFair throughout this month. 

May 

The temperature started rising high, the temperature never really go high nor low, not much rain either. 

This month is the end of spring. You can enjoy pleasant days for an entire month. This is the best month for weight seeing as the weather goes pleasant. This month you can pump up yourself with amazing live music, and delectable Spanish cuisine, eat crawfish and dance with your bae at Gator By The Bay. Or make a visit to Old Town Cinco De Mayo and enjoy small festivals at Fiesta Del Sol in Solana Beach.

June 

The weather stays sunny. You can find a sunny to clear sky.  

Continuing from the May month flower show, this month you can enjoy carnival spinning through the rides enjoying scrumptious food, and exhibitions at San Digo Country Fair. 




Besides you can enjoy the famous San Diego International Beer Festival. And can even participate in Rock n Roll marathon. 

July 

Zero rain with sunny days. 

This is the peak visitor month when the city faces the height of warmth and is highly loved by the visitors. This month is great for comic lovers where you can get full of entertainment attending the comic conventions in downtown San Diego. Comic-Con International fest is the most awaited and must-visit fest. Where you can escape from reality and let yourself be lost in the world of Hollywood movies and its comic characters. 

August 

The sunny weather is at its peak. 

This month end you may find high crowed at the beaches. In August you can enjoy the amazing Sea World's Electronic Ocean where you can enjoy music, stunt show, live concert amazing surprise day to night fun. 

Enjoy a free marketplace show in Tiki Oasis, the 18th annual fest Carlsbad Musical Festivals where you can enjoy live music played by eclectic artists. Kids can plan to go to San Diego Zoo Safari Park and enjoy adventure learning about animal and plant life along with enjoying live music. 

September

The Best month of the entire year. Weather is in the right favor of its visitor. 

If you wish to avoid crowds, we recommend September as the perfect month for you. San Diego weather is warm but most tourists have left. You can even get hotels at good rates. 

In August you can enjoy summer at beaches, enjoy a safari ride, and watch a concert. You can also do extreme adventure by summing with leopard sharks at La Jolla Underwater Park. 

October 

This is the month of fall. The weather goes hot but stays ideal for summer lovers.

This month is best for a family tour. You will get top hotels at a good price. This is the month famously known as kids' fun month. Kids can play, stay and eat for free at Kids Free San Diego, kids below 11 can join the fun by wearing costumes and enjoying the zoo and musical entertainment as well as special performances like Dr. Zoolittle and so on at HalGLOWeen At The San Diego Zoo. 

November 

Continued to be summer with a medium level of rain

November is the month for food and beer lovers. You can enjoy a locally crafted pint of beer and can even craft beer for promoting San Diego's brewing culture at San Diego's Beer Week. Enjoy the largest military events, live music, food, and cheering at Fleet Week San Diego with your entire family. 

Being proof of the amazing San Diego Bay Wine & Food Festival where you can enjoy wines displayed by international wineries, enjoy local cuisine, and multiple endless fests throughout the month.  

December

Coldest weather with a high amount of rain. 

This month is a pure gateway for low-spent stay and in-budget fun. The best part about San Diego's winter is it rains in winter. This turns out to be the ideal beach month as you can get a chance to can do whale watching. Relish amazing truck food, beer, and firing live music while watching San Diego's Parade of Lights and multiple endless fests held all over the year. 
Best Activities To Do When Visit San Diego
There are numerous activities you can do when you visit San Diego. From water-based activities such as scuba diving, boating, and surfing to snorkeling with underwater creatures such as giant whales paddling swim fins is next-level fun.


You can feel the boozing vibe on your first step to its beach. So, ultimately there's all time a good time to do any activity when visiting San Diego. San Diego's climate makes it a more livable city in California and the entire USA. Be it summer, spring, autumn, or winter you can enjoy each and every season without getting hitched in your fun. San Diego's climate and temperature are all supportive and comfortable which is why San Diego stands on top of our list as the most popular tourist destination in the USA.  
Check out our suggested list of best activities you can do when you visit San Diego:
Torrey Pines

– If you love hiking, then this place is a perfect fit for you. Here you can hike sandstone cliffs, enjoy a picnic lunch with your partner, or even can swim or surf on Torrey Pines State Beach.
Bolba Park

– The most incredible place that no one would ever want to miss. Famously known as the "Jewel of San Diego", here you can visit Diego's famous cultural hub, visit different but fascinating botanical gardens, can learn the amazing history of museums, and learn different aesthetics of Timken Museum of Art, and a lot more.
Belmont Park

– This park is loaded with full fun, from kids to adults, this park has everything for everyone. You can enjoy different carnival rides, gaming at mini golf, delectable food, and a lot more.
Pacific Beach

– If you are a party animal then Pacific Beach will be the perfect place for you. This place is famously known as a party heaven for youngsters and adults. Here you will not just enjoy endless beach parties but a pint of beer, and beach sports. Besides, you can do fishing, surf sea waves, the boardwalk on the ocean front, and watch the beautiful sunset and the list go endless. 

Seaport Village- This place is known for offering amazing food, goods, and gift items. Here you can shop for a range of products including unexpected quirky stone wind chimes, and watch a navy parade sitting in the window. Kids can enjoy hand-carved wooden horse rides and enjoy amazing food sitting at the air food court along with a free entertainment show performed by regular performers.  
So, if you are all set to add San Diego to your vacation list then it's time to decide when to go to San Diego. Since this city is bordered by Mexico, the weather there is always in favor of its visitor. Be it summer, autumn, rainy, or winter you can choose when to visit this city as per your preference. The temperature here is admiringly comfortable and the weather has always something special to gift to its visitors.
If you search for "the best time to visit San Diego" or " when to go to San Diego", undoubtedly you will find out a long list suggesting hundreds of places. This is because San Diego does really have a list of amazing spots to visit along with fascinating history. So, if you are still confused about when to go to San Diego then we'll say prefer your favorable weather, select the month, book tickets, land on the spot, and enjoy the life you had never enjoyed before.
Lion Bear Media
4021 Lamont St #11, San Diego, CA 92109
Follow Us On Social Media: