Best Top 6 Local SEO Tools to Dominate Local Search Results
In this competitive market, local SEO is becoming more important than ever to rank higher in search, get more traffic and make more leads. Local SEO is proven to unlock growth opportunities for businesses. As local competition is increasing, business which is implementing local SEO in their marketing strategy has more chances to dominate local search results.
If you are running a small business, there are local SEO tools to boost ranking you can make use of to your advantage. Local SEO tools can benefit your business with improved presence and more audience engagement.
If you are wondering about the best local SEO tools, in this article, we are going to talk about the top 6 in the market including their key features and pricing.
Based on testing and reviewing these tools for managing SEO campaigns, here are the 6 best local SEO tools:
Bright Local provides an affordable toolkit for local SEO which helps in managing and scaling local businesses' search efforts having one or multiple business locations.
BrightLocal allows you to provide tools to rank higher, improve your reputation, and generate more traffic and leads from local searches.
Features:
Audit Citation and NAP:  With the help of Bright Local, you can locate and monitor citations across thousands of sites.
Audit Google My Business (GMB): 

Get a fast, detailed audit of any GMB listing.

White-label reporting: 

Client reporting system through a customizable dashboard with an easy-to-use interface.

Track Search Rankings: 

Help track hundreds of keywords across Google, Bing, and Yahoo.

Clean-up and Build Citations: 

Bright Local's team helps fix and build citations on over 1400+ sites.

Monitor Online Reviews: 

Monitor reviews across 20 sites including Facebook, GMB, Yelp, TripAdvisor, and Foursquare.

Generate SEO Reports: 

Bright Local comes with a feature that helps in generating SEO reports that easy-to-read.

Pros
A low-cost way to create and update local listings and online citations.

Can select specific citations to have built by Bright Local's team.

Useful tools for performing SEO audits and generating reviews.

Simple and convenient local search tracking for sites and clients.

Visually appealing and insightful review and reputation reports.

Cons
Done-for-you citation creation service can take several weeks.

Lacks backlink data and in-depth competitor research tools.

Pricing
BrightLocal monthly plans start at $29 per month. Annual billing includes 2 free months.

The Multi-Business plan for $49 per month is required for white-label reports.

The SEO Pro plan for $79 per month provides access to Google mobile rank tracking and competitor tracking.

Citation building starts at $2 per citation.

You can also pay just for the reputation manager features for $8/mo per location.

BrightLocal offers a 14-day free trial. No credit card is needed.
2. Google Business Profile
Google my business is one of the most trusted listing platforms that help create a free local business listing to get found on Google search and Google maps. The platform is completely free for businesses with a local physical presence to add their business details and services. When a user searches for the keyword, the listing appears at the top of the relevant keyword on Google maps.
Features
A Google Business Profile gives your local business the ability to collect and respond to Google reviews. You can also receive messages from customers and prospects.

A verified listing is necessary to get found in Google's local search results. This includes the map pack (location-based results) and nearby Google Maps searches.

Edit the business information that appears on your Google listing. Add an address, phone number, website URL, business categories, and business description.

Share photos of your business and publish short posts. Post product and service updates, announcements, job offerings, events, or special offers.

Get local insight on your business listing. See the number of visits, local keywords your business is appearing for, mobile calls, direction requests, and more.

With an updated GMB profile and positive reviews, you'll more likely to rank higher on Google search and Google maps when people search for information about your company or the local products or services you offer.

Pros

Building a free online profile helps improve your local Google Search

Add images of your business for the users to see.

Ability to collect Google reviews which can boost your rankings.

Get data on website clicks and calls through your listing.

Manage listings for more than one business location.

A Service-based business can target multiple areas served.

Cons
New changes to a listing may not be reflected right away

Lack of customer support through phone and education business owners  

It can take time to verify a new listing if Google requires sending a postcard with a verification code to your business address

Pricing
It's free to create your business profile on Google. You just need to sign into or create a Google Account to set up your profile.
Semrush is a complete search engine optimization toolkit with a range of features to help in local SEO services, local listing management tools, and other features for traditional SEO.
Features
Distributes your business data to business directories automatically and edits your information to update all sites and suppress duplicate listings with semrush's local listing management tool.

With its local listing management tool, you can check local ranking trends, compare position to other local businesses in Google Maps, organize GMB & Facebook listings, and report on how your listings perform.

Respond to reviews on your GMB & FB listings directly from Semrush.

Monitor multiple business locations with recommendations for better local search results.

Pros
Easily manage local SEO with a range of feature-rich tools.

Update your business listings and citations for over 70 directories.

Help track local keyword rankings with insights from detailed SEO reports.

Allow monitoring of local competition rankings along with the position tracker

Semrush has the largest databases of local keyword research and link data.

Cons
Semrush is expensive for multiple users and tracking many websites.

Pricing
Monthly Semrush pricing starts at $119.95 per month. For local listing management, a basic location costs $20/mo per individual location. A premium location can cost $40 per month for each business location. Semrush comes with a 7-day free trial with a free account providing limited feature access.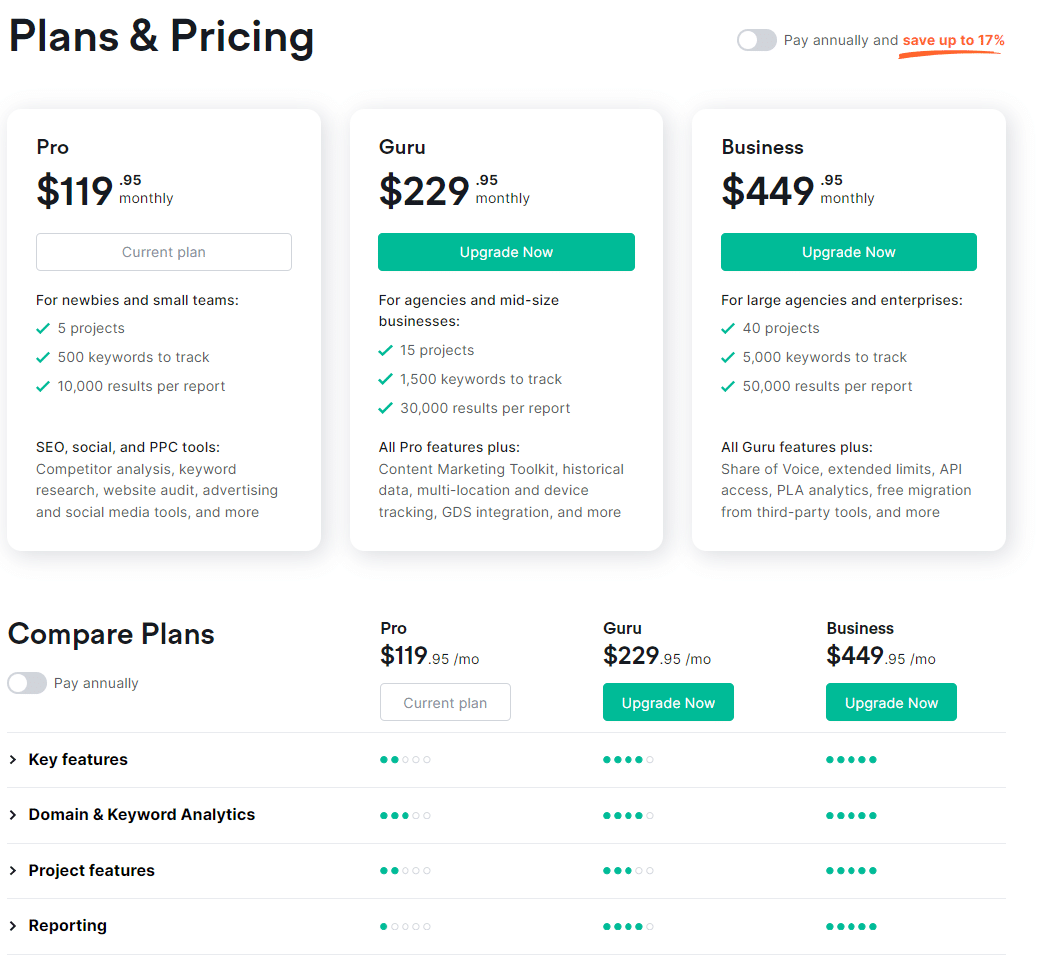 Synup tracks your business performance on search engines, local directories, and review sites. Synup helps to crawl over 200 local search engines and directories to find the required issues to make sure your citations are accurate.
Features:
Sync business and location data instantly across different sites.

Monitor customer interactions and receive notifications when customers leave reviews or social comments.

Integrated analytics allow users to track web rankings and traffic.

Manage website content using widgets.

Use widgets to display reputation data.
Pros
Track your web rankings and traffic

Get notification from the people who leave comments

Quick Response to all the messages and comments

Syncs your location data across different sites
Pricing
Synup pricing starts at $30 per location.
Moz Local is the best local SEO tool for small businesses that need to monitor and track listings and citations on multiple directories. The best part is that Moz Local automates the process, so you don't have to babysit your listings. You can read and respond to reviews from your Moz dashboard, but you don't have to monitor it constantly—get alerts for the big sites to save you time.

Tracking listings and citations is important to know how you are performing. Moz Local is a well-known local SEO tool to monitor and track listings. If you are a small business, Moz local would be the best local SEO for you because it automates the process so that you don't have to monitor them constantly. You can get alerts of customer reviews to save you time.

Features:
Data Visualization

Geocoding

Keyword Rank Tracking

Location Tracking

Negative Feedback Management

Reporting/Analytics

Response Management

Review Monitoring

Review Notification

SEO Audit

Social Sharing

Pros
Automatically distribute and sync listing

Automatically detects and deletes duplicate listings

Facebook and Google integration

Receive alerts when new customer reviews

Post to social media from the dashboard with a preferred or Elite subscription

Cons 
Automated submission to additional local directories only comprises in the expensive paid plans

Can't respond to reviews from the dashboard in the base tier

No free trial

Pricing
Ranges from $14 to $33 per location, per month

U.S. users can expand location data distribution for $4 more per month with all but the Lite plan
Google Analytics is a well-known performance tracking and analytical tool to understand the insights of visitors' experience and their traffic from local SEO work. Google Analytics also makes it easier to manage content and online marketing strategy based on the visitor engagement and demographic data it provides.
Features
Find the sources of your website visitors such as major search engines, social media, and other referring sites.

Increase your understanding of how visitors from local searches use your site.

Find out the location of your visitors based on country, state, region, or city, in order to understand how your local SEO strategy is performing.

Track custom conversion events you determine such as website form submissions, phone calls, visitors from specific locations, page views, and more to better understand the customer journey.
Pros
Quick setup for tracking website visitor sessions.

Get detailed insights into user demographics.

Auto-tagging capabilities for Google properties.

See where your website traffic comes from.

Segment data and save custom reports.

Cons
Semi-technical setup required for custom event tracking.

The learning curve for understanding interface and features.

Pricing
Google Analytics comes with a free version for small to medium size businesses. For more features and insights, you can also switch over to the paid version called Analytics 360. It helps you track large sets of data and metrics.
Rank Higher on Local Search Results - Here's how
Lion bear Media is the most trusted SEO company in San Diego who can help you provide best in class local SEO services so that you can rank higher on local search results. With the team of SEO professionals, we leverage best practices and timely support to bring the best results for the businesses. 
We have been serving all sizes of businesses with a customized approach that fits the client's needs and wants. So, if you want to rank higher on Google, generate more traffic and win more customers, our SEO services San Diego are all you need. 
1. What is Local SEO?
Local SEO is the practice of optimizing businesses having a physical location or serves for a geographical area with the goal to increase visibility in locally searched results & attract local traffic and potential customers.

2. SEO vs Local SEO: What's the Difference?
SEO and Local SEO carries the same tactics and strategies. However, local search engine optimization focuses more on creating localized content, listing citations, and links to rank prominently for relevant local search terms.

3. What local SEO tools are used?
Local SEO tools are used for various research, tracking, and optimization activities in order to manage a local search campaign. For instance, local SEO includes, researching local keyword phrases, tracking keyword positions, auditing websites and links, and analyzing performance reports.

4. Why is Local SEO Important?
Local SEO helps your business get found by local potential customers on the local search terms relevant to your business. The major benefits of local SEO include better online visibility, more in-store foot traffic, More Calls and Visits from Maps Users, Improved Conversion Rates, and More Sales.
Lion Bear Media
4021 Lamont St #11, San Diego, CA 92109
Follow Us On Social Media: