Where To Invest in Digital Marketing with a Limited Budget ?
Digital marketing is ever-evolving, but also a most profitable investment when it comes to driving traffic, leads, and sales of the business whether it is small start-ups or large companies.


However, not every business has an unlimited budget. Many small businesses carry limited budgets to implement strategies and campaigns. From content marketing to social media management, the options are plenty but questions come to mind about what to rely on.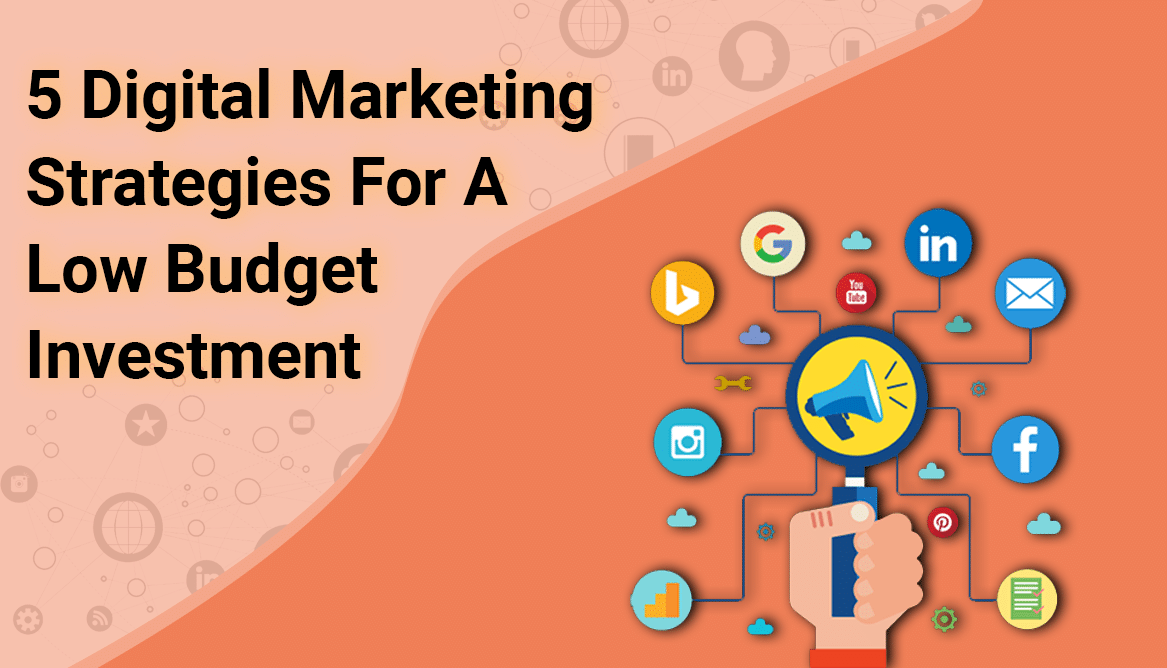 The key is to find ways to maximize your marketing budget without breaking the bank. Here in this article, we are going to talk about some of the most effective strategies that you can invest in even having a low budget.
5 Digital Marketing Strategies For a Low Budget Investment
Here are 5 digital marketing strategies to invest in if you have a low budget
Email marketing has become one of the most effective yet affordable strategies for digital marketing investment. Create a list of customers that you find most interested in getting your services or purchasing your products and send emails based on that.


Whether you want to reach out to new customers or retain the existing ones, emails will help you to shoot offers, introduce yourself and pitch your business if you have a limited marketing budget.


Based on the research by Mailchimp, the average email open rate is 21.33% and the average click rate is 2.62%. If looking at the stats, the return of email marketing is quite impressive because of its power to generate high revenue.
SEO-friendly content has become crucial to reap the benefits of content. Blogs for websites are increasingly becoming the most traffic driven. If you want to keep up with fresh content, adding blogs will leave a great impact on your website. Content has always been king in the marketing world.

You can use content to gain backlinks. One of the most proven ways is guest blogging. Reach out to industry experts and allow them to post your content in order to attract and connect with their audience. This will not only help you build traffic but also credibility for your services, resulting in your website ranking among the top searches..

Moreover, there are various social media channels that you can use your blogs for. Social media marketing drives a huge number of sales to eCommerce businesses. There is no best time than this for using social media content to promote your business and build relationships with customers.

As digital marketing is evolving, the key is to create plenty of content that's unique, original, and engaging and then optimize for search engines to get you leads and sales.
For local area-based businesses, implementing local SEO would be highly profitable by increasing awareness among the local people. Businesses with physical locations are more likely to get benefited. Users are searching with "Near me" keywords for businesses with a physical location in the near area or city.


Google My Business has become the most reliable platform to list your business. There are lots of other business listing websites and local directories that most businesses use. Around 46% of searches have local intent. Ensure to keep your Google Business Profile optimized with the customer's reviews so that it can appear in the Google business pack and also on Google Maps.
4. Social Media Marketing
We are living in the time of ever-increasing users on social media platforms. An effective social media marketing strategy can do wonders for you. Know where your customers are, and choose those social media channels what you think could work in reaching to your hidden audience & capturing those leads and conversions.
Facebook, Instagram, Twitter, LinkedIn, and YouTube are some of the most popular channels that you can use. However, each platform has its competitiveness and requires deep understanding.
In order to stand out among the competitors, it's best to stay consistent in creating content to engage users and make them take healthy actions. The more you'll create post engagements, the more you'll likely gain followers.
The best part is that you can run ads whenever you need to get leads. Facebook, Instagram, and YouTube come with Ad costs that you can customize based on your needs without breaking the bank. Social media marketing is considered the most profitable when it comes to getting higher returns on a limited marketing budget.
Link building is the process of collaboration with other websites with the help of backlinks and is considered a budget-friendly digital marketing investment. Achieving links back to your site will tell Google that your site is worth ranking for, resulting in increased domain authority.
Before you get a link from any website, it's best to check its domain authority. The higher it will be, the better it is. However, getting links from less trusted websites could leave a negative impact on your ranking. When done right link building can help you build credibility, traffic, leads, and sales and improve SEO metrics such as domain rating, domain authority, and page rank.
Get Digital Marketing Services at your Budget
While some techniques can fit businesses with limited budgets, some can cost you more. With Digital marketing services in San Diego at Lion bear media, we can help your brand leverage top result-driven techniques that are worth your investment. From social media marketing to PPC advertising, we will help you build traffic, rank, and eventually potential customers.

So, what are you waiting for? LionBearMedia is your one-stop solution for all digital marketing services with a customized strategy.